Navigation:
Home
> Stillwaters Ranch Testimonials
Stillwaters Ranch Testimonials
Trophy whitetail hunting in texas, hill country trophy whitetail hunts, llano county trophy whitetail hunts, llano texas trophy whitetail hunts, whitetail deer hunting texas, whitetail deer hunting llano, whitetail deer hunting, texas hill country
Dave Hearn
Fall 2016 - Stillwaters Ranch, Llano, TX
Dear Clayton, Thank you for the wonderful time my daughter and I had hunting at your ranch this past weekend. Holly, my daughter, reminded me that this was our 5th year hunting at Stillwaters Ranch. Over the years we have brought friends, family, and clients to your place for a quality whitetail hunt. Everyone leaves bragging about the time they had there. We look forward to our time with you and your guides and always enjoy the hunt. You always go above and beyond to make the hunts and the time spend at your ranch a memorable experience. I am looking forward to seeing you in two weeks when my son and I will hunt with you again. Sincerely, Dave Hearn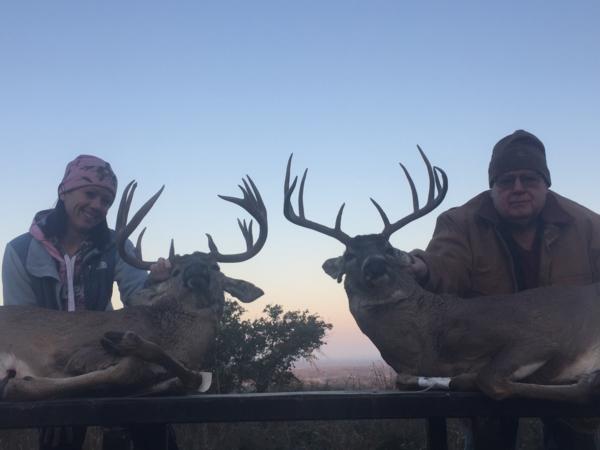 John Vance
Fall 2015-16 - Midland, TX
Clayton, I can't say enough good about hunting with you. It seems like every year gets better. Stillwaters Ranch is both a beautiful and challenging place to hunt. From my buck at 290 yards to Amanda's at 100, the variety of the hunting can't be beat. The quality of deer is hard to beat too. I always look forward to seeing the number and quality of the trophy deer. Our representative trophy bucks, especially Amanda's, would be top deer in many places. This was my fifth year here and Amanda's second and every trip just gets better. We just left and are already looking forward to coming back next season. If someone needs a reference, please give them my email or phone number so I can answer their questions. Thanks again to you and Julie for a great week-end.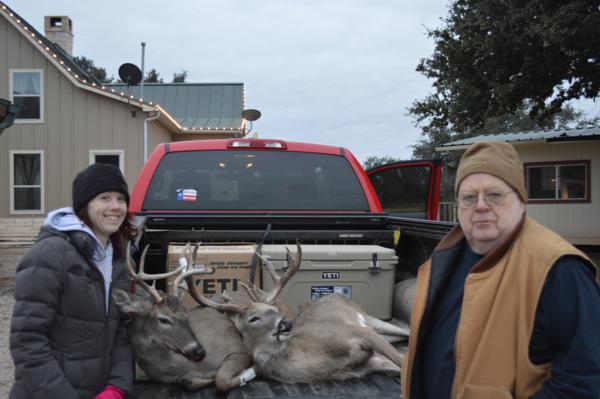 John Vance
Fall 2014 - Midland, TX
I've hunted for several years with Clayton and always had an exceptional time. Last year, my daughter came with me and shot her first buck. I shot one of the best deer I've ever seen. We have been looking forward to our hunt this year since we left last year. Clayton and Julie make it seem like a visit to friends instead of pure business.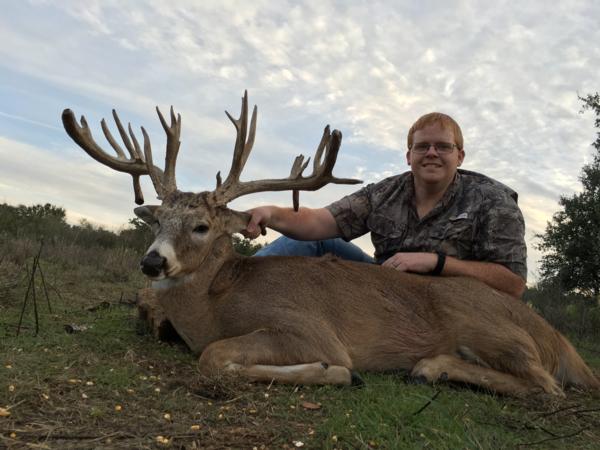 Jason McDonald
Fall 2015 - Beaumont, TX
Clayton and Julie, Anette, Brodie, and I would like to thank you again for all of your hospitality while hunting at Stillwaters Ranch. You've maintained one of God's most beautiful wildernesses as such an inviting place to enjoy the beauty of the animals and hunt the trophy of my dreams. All of the blinds you brought me were in top shape with a level of comfort that I envy when I'm sitting in my tiny box on my lease back home. It's great knowing that my only responsibilities are to show up on time with my gun and let you lead the way to an awesome hunt. This, my second year, we saw so many trophy deer but there is no such thing as regret when a trophy like I took this year walks out. You put us right where we needed to be to get that once in a lifetime opportunity. I can't wait until next year to come back and spend the weekend with ya'll again. Thanks for the memories! Anette, Brodie, and Jason McDonald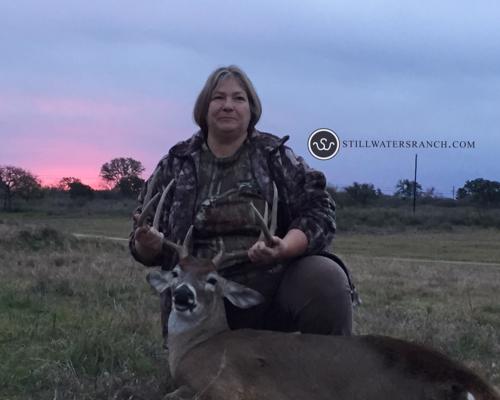 Larry & Karen Choate
Fall 2015 - Shenandoah, TX
Clayton, All I can say is Thank You! When I booked my wife a guided hunt for her birthday, I had no idea what to expect since neither of us had ever been on one before. From the first afternoon on you seemed to do everything possible to make us feel at home. Karen and I both felt like we were out in the field with a long-time friend event though we just met. You have a first class operation that delivered on everything the web-site advertised and more. Amazing animals, attention to detail, great hospitality, outstanding amenities...I can't imagine it gets any better anywhere else.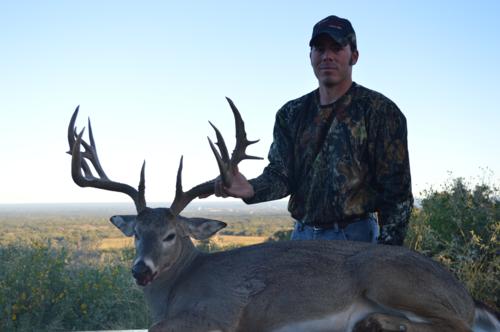 Buck Chapman
To hunt this ranch is amazing! Here is what you can expect whether you're a seasoned hunter or a first timer:
- An owner who has a passion for hunting/guiding and delivers on his promises.
- Hospitality that is above and beyond what anyone should expect.
- Quality genetics: We saw numerous trophy bucks including my 160 class main frame 8 with its 7 kickers, a 3-beam buck that might score in the 190's, a slick main frame 10 that might score in the upper 170's, a young main frame 14 point with kickers that might score in the 180's and other gorgeous trophies.
- A gorgeous ranch that has a running spring, 100's of miles of views, 1st class blinds, feeders that work every time, etc.

If you're looking for a quality guided hunt from someone who has a passion for deer and isn't out to make a quick buck, look no further.
Buck Chapman 11/10/14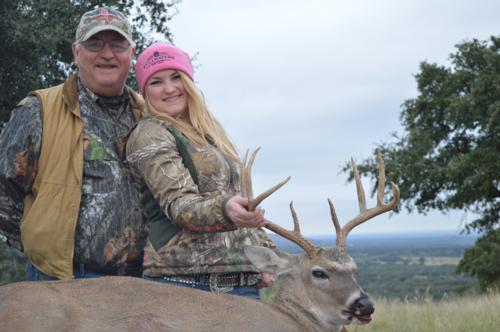 Dave Hearn
Fall 2014 - Beaumont, Texas
What an amazing sight to see all the trophy deer feeding during our recent hunt. While our hunt was successful it is amazing to see all the deer. The hospitality shown us is wonderful whether you are a new hunter or experienced. This being our third season hunting with you makes our time special when my kids unplug from phones etc and begin talking and hunting. This is special time I look forward to each year. Our clients enjoy the hunting and professional service you provide. Dave Hearn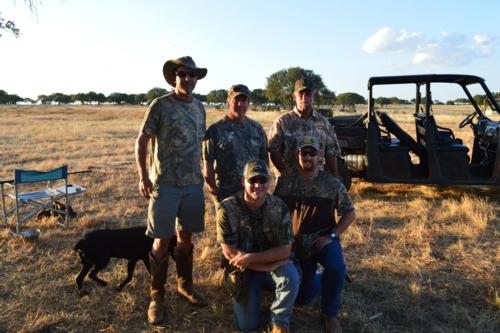 Layne, Steve, Kurt, Tim, Mike
Dove Season 2014 - Llano, TX
Clayton, I have dove hunted many places in Texas, but my experience at the Stillwaters Ranch was probably the best opening day hunt I have ever had. My friends and I showed up at the gate mid-afternoon and the field was full of birds. We started shooting birds immediately. There were so many that two of our hunters ran out of shells and Clayton was kind enough to bring them more shells. Overall, it was an awesome hunt. We had 5 hunters and shot 5 limits, with one first-time hunter. Stillwaters Ranch is a wonderful place to dove hunt. It's a beautiful ranch and Clayton is a great host. Layne, Steve, Kurt, Tim and Mike Austin, Texas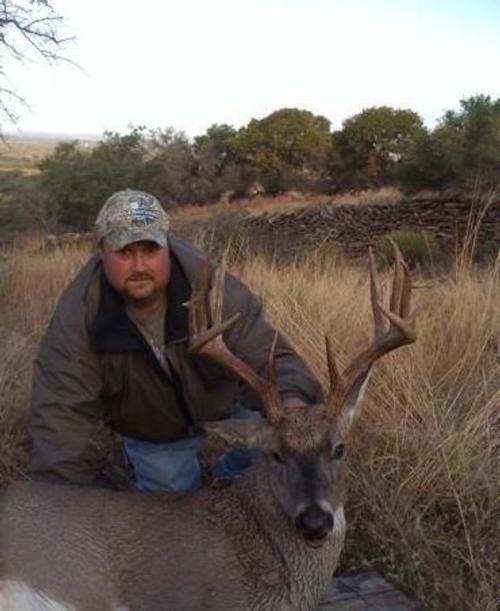 Charlie Young
Clayton,
I just wanted to thank you for a great hunt! If you want to see plenty of deer and have an opportunity for a great deer Stillwaters Ranch is the place to hunt! First class in my book! Thank You again!!!
Charlie Young
Bertram, TX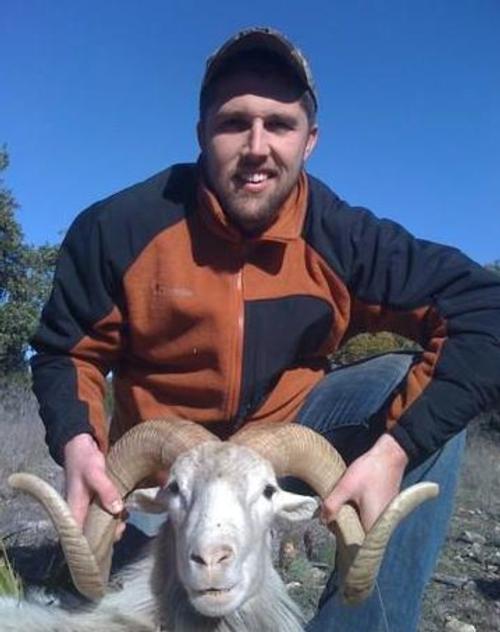 Robert Cook
Clayton,
Just wanted to say Thank You again! I had a great time and can't wait to get my Texas Dall mount! The ranch is awesome, accommodations were very comfortable and spacious, and you were a great guide. I wouldn't have changed anything about the hunt. I am looking forward to coming again next year and hopefully bringing some friends along with me. I would highly recommend Stillwater's Ranch to anyone. You won't be disappointed!
Robert Cook
Nashville, TN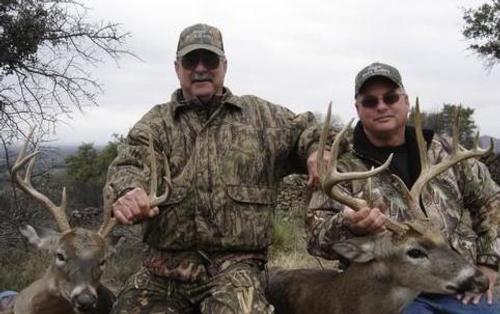 Steve and Mike Souza
Clayton,

Thanks for making our first trip to Texas a memorable one. The deer hunting was nothing more than fantastic, and your Texas hospitality was great. The ranch was beautiful, and the accomidations were very comfortable.
We would also like to thank you for teaching us a little bit about whitetail deer genetics. It made the trip educational as well as fun. We're looking forward to our trip back to see you next hunting season.
Best Regards,
Steve and Mike Souza
Lemoore, California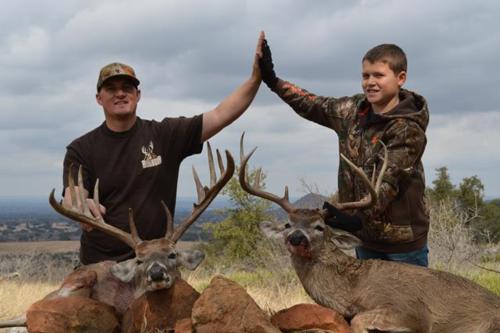 Steeleys
Clayton,

I was skeptical in booking a trip because of the "high fence", "feeders", and 500 acres of area to hunt. I am used to hunting 2000 acre ranches in Wyoming of open terrain.

As I was bringing my 11 year old son with me on his first ever deer hunt I was hoping to at least see some bucks. From the moment we arrived at the ranch I felt like we made a personnal friendship with one another. Your attitude of "what's mine is yours while your here" was absolutely amazing.

From shooting the AR-15 to sighting in our own rifles at the range you have, my son and I both felt 100% welcomed. Your patience with my son was beyond words. From the never ending hog grunt call to the constant "can we fish then hunt hogs"! You were extremely patient and for that I am grateful to you.

As far as the hunt itself. It was about as far from "shooting fish in a barrell"'as I can think of. Yes there are monster bucks running around and despite our ultra tough hunt (weather was 83 one day and 42 the next) we could never pattern the deer.


High winds and spooky does made it difficult for the bucks to appear. Again, totally not like lining up the bucks by the feeders as some would expect.

After my son tagged out on a very nice mgt buck, it took 6 hunts before we jumped my buck up in the woods. You proved to be more than a guide, more than looking for the extra dollar, and more of a friend and boy did we have some good laughs. Grunt call and all.

Clayton, I personally want to thank you for the hunt of a lifetime for me and my son. I will be coming back with my 15 yr old daughter who has yet to bag her first buck. You have found a client for life with the Steeley family! Keep doing what your doing because its working well!

See you in December or January pal, lock us in.

Jared and Carson Steeley
Denair, California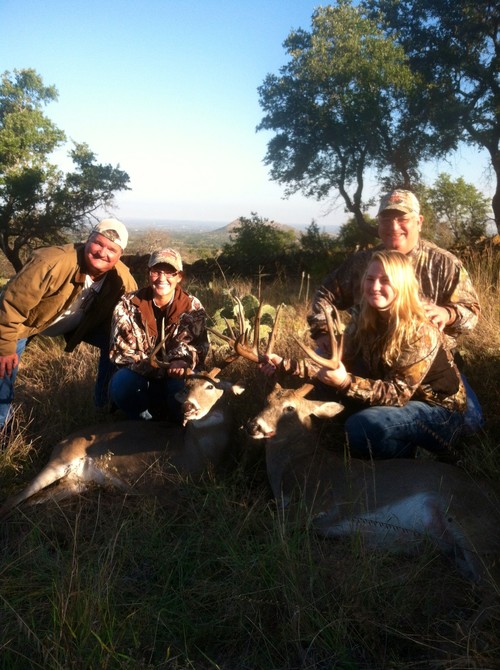 Dave Hearn
Dear Clayton,
I would like to express my apprecition for the professional and personal attention showed my daughter, Holly, my niece, Haylea, and my brother, Daniel, on our hunt this past weekend. Your services at Stillwaters Ranch certainly exceeded our expectations.
While we knew you could not guarantee your hunters' success, it was obvious that you were working hard to do everything to help your clients succeed. Having hunted other day leases and marginal dear leases for many years, my brother and I decided to invest in a guided hunt for our daughters. This decision was a good one. My daughter has hunted with me for several years and we have passed on small does and bucks considered too small to shoot. Her deer taken from your ranch will be a memory not soon forgotten. Hunting with a professional guide made the difference, along with some patience and a few practice sessions at the range, so when the time came she could do her part to make a clean kill.
As a father, my biggest thrill is to see the love of hunting being passed on to my children. Though, I am quite content to enjoy the thrill of a hunt with my children I did see a few bucks that got my heart racing.
Hunting with you at your ranch was more than a guided hunt; it seemed like we were hunting with good friends.
Please don't hesitate to use me or my brother, Daniel Hearn, as a reference for any prospective client.
We will be booking with you again soon for next season.
Sincerely,
David(Dave) W. Hearn, III
Beaumont, TX
To our past clients: We appreciate your comments and if you would, fill out the form with comments and a photo about your experience at Stillwaters Ranch. Fields marked with * are required. Please enter the Name field how you want your name to read on our website (Examples: John Doe, J. Doe, John D., John Doe Corporation).